I got a Revise & Resubmit on my symposium proposal. The organizers sent me this really long email, and I just kept scrolling and scrolling to get to the decision. It was one of those messages where they say stuff like, "We've gotten so many good proposals this year..." and go on and on about what purpose they want the symposia to serve. I'm scrolling/skimming thinking, "Oh crap!" but then they said that they wanted me to try to explain more about certain points that they were interested in and then resubmit it.
I'm thinking, "Well, that's good, I think. It's not a "no," anyway! I didn't know they'd let you revise and resubmit!"
So I told my advisor about it, and her reaction was almost exactly the same. "That's good- I guess. I didn't know they did that."
It adds another step to the process (I think they don't do R&Rs very often at this stage, which is basically a proposal to do a proposal!! I think they do usually give straight up yes, submit the full proposal or no, this isn't appropriate for the theme we're going for.), but that is fine with me. I'm just glad I didn't get rejected, and I'm sure that it is, in part, due to the Big Names who have agreed to participate. Next is to revise and resubmit by Dec. 10th. I will then get a yes/no decision about whether I can keep going forward with this. If it's a yes, then I submit the full proposal in the middle of January. I'm nervous! But it's a good nervous. I'm really glad I pushed myself to do this. I think it's really good for me to stretch like this. The easy thing would have been to chicken out and not do it. I thought this was the road that I would take, but then I changed my mind.
Thanksgiving
DH and I are planning Thanksgiving. We're doing it at our apartment- the two of us, plus DH's office mate, who is not from the US. We're making a ton of food! Yay! Last year, we spent T'giving with my in-laws, and they just didn't make enough food. It's sad when you think, "Gosh, I've already had 12 green beans... if I take any more, there won't be any left for the rest of the family!"
I don't like turkey, so we're having a standing rib roast. I figure since we don't have to pay $800+ for plane tickets home, we can splurge on our meat. MMM.
Knitting and Other Stuff
I'm working on my Christmas present for one of my friends. I'm doing the
Agate and Lace
scarf in Crystal Palace Cotton Chenille- a yarn I love! I am pretty sure I haven't posted a picture- it's a lot longer than this now (about double the length, maybe a little more), and I have one more ball to go.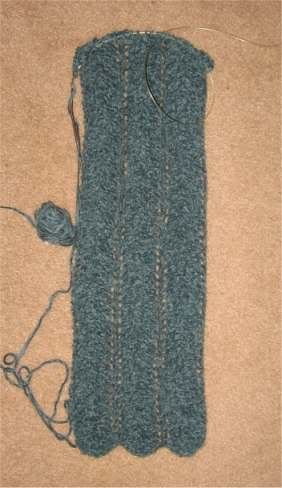 I'm undecided about whether or not I'm going to do beads on the end of it. I've had a hard time finding beads that I like that aren't uber-expensive.
I'm also knitting an Ugg scarf, based on the one done by
Kay
. I'm only using one color of Lion Brand Suede, though, and my fleecy yarn is JoAnn's Sensations Beautiful in Off-White, which does a darn good impersonation of shearling, for yarn. The other change I'm going to make is to do the ends as a ruffle. I've never knit real ruffles (aside from the Ruffles scarf from
Scarf Style
, which is done with short rows instead of doing lots of increasing on each row), so this will be a first! I'm really liking my scarf break- they're pretty easy, and fun.
Yoga
Went to a kick-butt Iyengar Yoga class on Wednesday night. Wow. It was hard! It was only a level 1-2 class, which I should totally be able to do, but it was pretty strenuous. I like that, though. We did handstands and headstands (I can only do them with the instructor's help!), and I must have worked pretty hard, b/c I have these tiny red pinprick-looking things around my eyes. I think I was straining so hard that I broke some capillaries- this is what some of my online friends think, anyway. This past week, I've been alternating yoga with running, and I like that mix a lot. I need the cardio of running, but there's nothing like yoga.
I've been running using an interval method of alternating running and walking. I started out running 3 minutes, walking 4 minutes, and then upped my running time by 30 seconds and decreasing my walking time by 30 seconds, so I was doing a 3:30/3:30 split (split isn't the right term, I know, but it makes sense to me here). Then, yesterday, I cut my walking time by 30 seconds, but left the running time alone, so it's now 3:30/3:00. Next step is to increase my running time. I try to do 5 intervals (so 5 running segments), and I succeed most of the time. Not always, but most of the time. I want to run a 5K at some point in the near future, and it is really important to me that I actually run the whole way. I could almost certainly do one now doing my run/walk system, but I want to run it! Seriously!
My running pace is at about 10 min/mile, which is pretty good for me! I'm starting to try to push myself a tiny bit during the first interval by raising my knees a couple inches higher- this makes you go faster with less effort, says my husband (who ran cross country and track in high school and cross country). It does make it harder, though! I don't care what he says!