I started my clapotis scarf a couple of days ago. I couldn't hold off. The yarn is less blue, more gray than I would like- very appropriately colored for its name, "Denim." I think it's good, though. Here's my clapotis so far.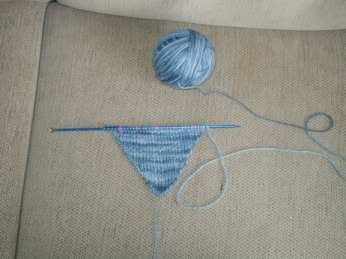 Next to it is a lovely centerpull ball of yarn that I rolled myself.
Here's a great set of poems and pictures- an
ode to clapotis
, of sorts. I'm psyched to finish this scarf. I already want to knit another one in a delicious shade of turquoise if I can find it- a summery clapotis.